I noticed that lately some of my friends are going to Portugal or planning to go there. I must say that I consider this a great travel destination and I approve your decision.
So if you are travelling on a tight budget or if you just want to save some money I will give you my personal recommendations of places and things to see in Portugal.
I visited all this places and I would recommend them to anyone, anytime!
This list will be like a map. I'll start from central Portugal, going South, pointing out the places where you should stop for a bit. It's up to you how much "a bit" means.
1. Coimbra

Here you will find the first law University in Europe. The location is very impressive and you can even go in a little bit (if you confidently act as a student
). First time when I got there I thought it's a touristic place, a public monument with a huge square from where you can look over the city. If it wouldn't be for my friend Daniel, I wouldn't think that in that building students are actually studying! Amazing!
Besides this, you'll have to go for a walk in "Jardim Botânico da Universidade de Coimbra". If I remember well it's for free and amazing! Really!
On your way, make sure to gaze at the floor and "ceiling". By that I mean at the mosaic pavement, which is handmade (of course) and at the huge aqueduct above your head. I am sure you won't miss it!
Speaking about parks, make sure you'll go for a walk through "Parque de Santa Cruz – Jardim da Sereia" which is in the Center of Coimbra. While you're there stop by to "Casa de Chá do Jardim da Sereia", it's the only restaurant in that park and why you should stop is because they employers are people with different handicaps (mentally mostly). I find it extremely nice and thoughtful. Finally someone(an association) found a way of helping people with disadvantages and making them feel worthy(as they really are!).
The location is fantastic. Imagine enjoying a delicious dish of bacalhau (I wasn't vegan when I was in Portugal
) with a refreshing lemonade surrounded by a small bamboo forest, in a park. What else would you want?
2. Figueira da Foz

After you finished your visit to Coimbra, now travel south until you will get to Figueira da Foz.
Here you will find a nice small typical coastline town. In the past the main activity of the town was fishing. Now you can admire the typical fisherman houses next to huge hotels, which are closed due to financial crisis…
But wait! That's not all.
Here you can walk 20-30 minutes from the street over the widest beach that I saw in my life, to get to the Atlantic. Yes it's quite a walk, but it's worth every meter of it. Beware that at one point you'll think you are close to the ocean, but that will be only an optical illusion because the beach will still be there for another 10 minutes of walk.
Also here you can see the Sun setting into the sea, if you're lucky enough and it will be a clear sky. Before I got there I only saw the Sun rising from the sea, after visiting Figueira da Foz the cycle was complete!
3. Montemor-o-Velho

While you're in Figueira da Foz, try and go for a visit in Montemor-o-Velho. Here you'll find a small and cute village which looks very medieval.
The streets are paved, the houses are cramped one into another. The center, where the town hall is, has a nice public square where you can almost see how it was used as the place for the village's market, back in the days.
On the top of a hill there's a fortress around a nice and very decent catholic church. You can get there by foot, car or…. using  the escalator! Hahah! Yes, there is a series of escalators that will take you all the way to the top of the hill. As funny and unnatural might sound, the experience is interesting and the view magnificent.
4. Sintra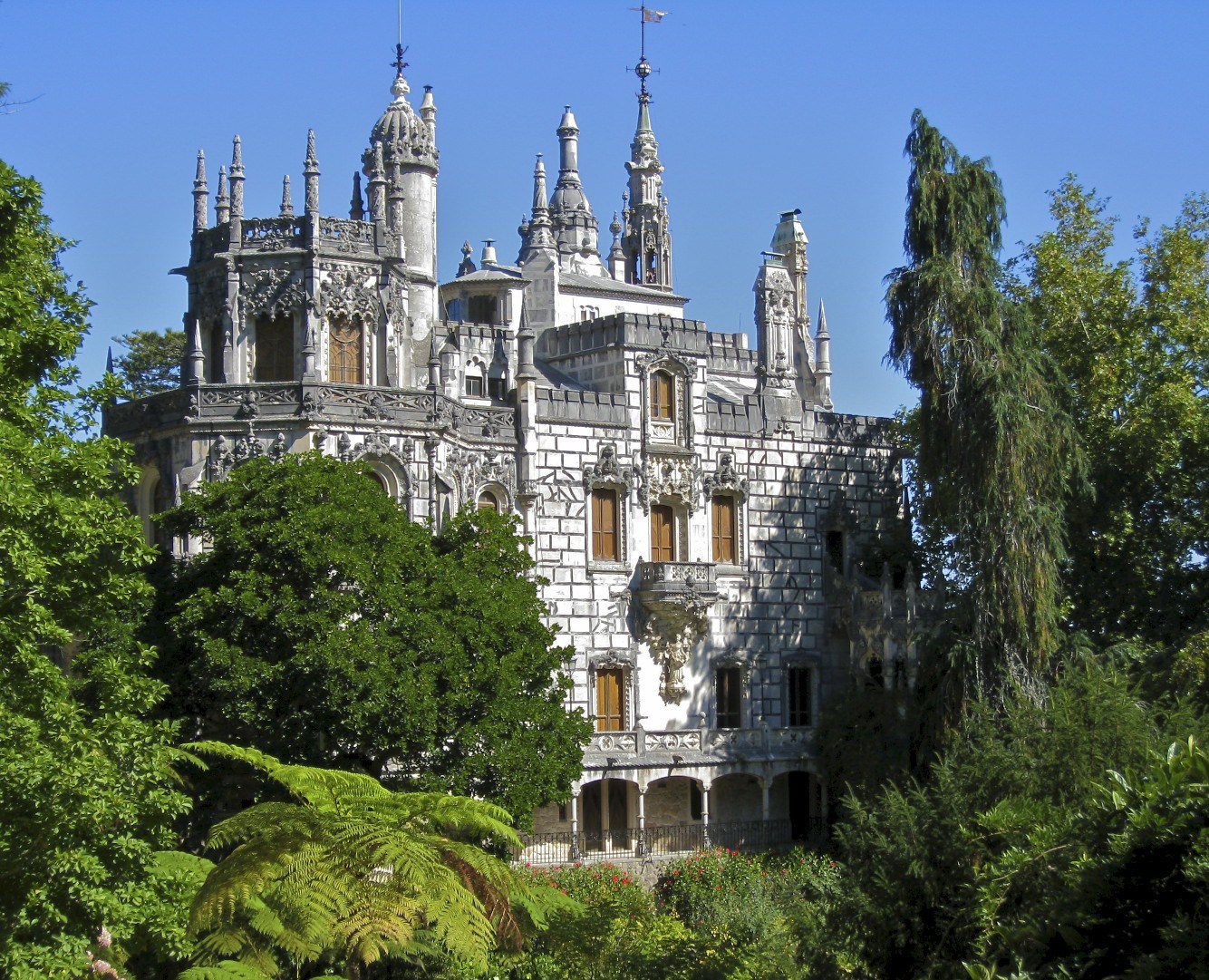 Now it's time to go a bit more to the South until you'll get to Sintra.
Please, please take your time here!
After you visited the city casually surfing through the narrow streets(and maybe filled with tourists) where you'll be asked to drink some strong alcohol from chocolate cups, buy stuff and all those things you'll need to get a rest, right?
To relax and take a break you have to go to Quinta da Regaleira! This park it's worth to pay to visit. I honestly don't remember how much is it, but somewhere between 10 and 20 euros(I think the receipt said 12,50 but I don't find it). Find a way to have the money for the ticket, really! The whole park was built with exotic plants and the way it was built invites you to walk slowly. There are even tunnels to get from one side to another. There are small towers to climb in and watch over it. Oh my god!
Just go!
After you finished with the park make sure to go with a car, through the hills so you will see the unique environment of that area. I heard that it really is unique for Portugal.
You won't have to drive a lot, because the next destination that I will recommend is near.
5. Cabo da Roca
This is one of the Finisterra of Europe!
Come on! If you're so close to this, you should go. Who wouldn't like to say "Hey, do you know I went all the way to the end of the Earth?" – omg! Now I realized this can be used as a pick-up line. Hahaha!
6. Lisbon

Go a bit more to the South and you'll get to the capital of Portugal, Lisbon. (maybe here you can use the pick-up line!)
There are way too many reasons why you should go here. I won't even try to write them all because you'll get bored. Instead I will tell you what you should do and what I did.
Get lost while you explore the city!
Really! I am not joking. There's no reason why you shouldn't do that. It's a very safe place, and exploring all the intricate streets that go up and down the hills is so rewarding. You'll find yourself taking left and right corners and then you'll end up to a park with a terrace which oversees the whole city. Your jaw will drop so hard to the floor that you'll break the nice handmade mosaic on the floor.
Another thing what you should do, just for the sake of doing, would be to go out in Bairro Alto. Don't look it up! Ask anyone and they will point it for you. This is a district in the city where people are going out. It's like a big, big club but on the streets. There are small bars, and when I say small I mean only 5 people fit inside at the same time, from where you can buy your drinks and then go and party on the streets. It's really fun!
If you want to learn how to surf while you're in Lisbon, you can contact my friend Tin who has Surfgasm. He will pick you up and drive you to a splendid beach where he will teach you how to surf. He has all the stuff you'll need!
If you want to find out what touristic objectives to visit you can go to an info point and ask for a map and directions. They will be glad to help you.
By the way, in Lisbon you can see Jesus from Rio next to The Golden Gate from San Francisco. How awesome is that?!
7. Olhao

Now you should travel South a bit until you will get to Algarve. That's how the South of Portugal is called.
Here I strongly recommend you to go to the National Park of Olhao. If you like nature and ecosystems go for a visit there.
I know there is a ticket that you can pay. I also know there is a way to go in for free which I can disclose only in private, for obvious reasons.
Take a few hours to go for a long, long walk through this marvelous place. When you'll get to the lakes go in the bird-watching houses and use a binoculars, if you have one. It's a really peace full place.
Here you will also see a sort of mill that was used to make flower. What is fascinating about this mill is that it used the power of tides to do all the work. Now they are not used but you can go inside and visit them.
What stuck me the most was the simplicity of the whole system. Just wow!
By the way, next to the entrance of the park I had Caramujo and Carne Porco c/ Ameijoas!
8. Faro

This small city is a must from my point of view!
It also has that medieval feeling to it, when you go to explore the old center and go through huge stone gates. If that doesn't say medieval, than you tell me what?
I went on walks through it day or night and never got bored. It has something that I can't really describe which makes you go again and again. And the nice thing is that you can always find something new in it.
Here they also have a Bone Chapel which was one of the most weird-unusual visit I had in my life.
I'm not going to go much into details and describing my perception of it. It's a thing that you can see, and it's only 1 euro. It's something!
If you want to explore the area more and need a place to sleep I highly recommend Hostel Casa d'Alagoa because I know those people and they are the most insane, crazy, warm and welcome people! Don't be afraid to drink the sangria, you won't remember it anyway. And if there's a party, don't miss it, it will be one of the best parties you'll be part of. I guarantee it!
So if you'll stay longer in Faro, than you should definitely go for a trip by foot or by bike to the beach. It will take a while but it's worth it. If you'll go, make sure to go through the natural park where you can see salt beads, flamingos and airplanes(yes, the airport is built in the middle of the natural park).
Also, the beach is very nice and you can have very long walks there if your legs are good enough.
9. Abandoned private beach

To get to this place you'll have to start traveling West, now.
Yup, I can tell you where you can find even an empty beach, only for you, if you want. This information I'll give only in private for exactly the same reasons.
If you want to go camping, even at the end of November, you can go to this place and nobody will bother you.
Hell! You can even put your tent inside a freaking cave!!!
10. Sagres

Go a towards West as much as you can. I dare you!
You will get to another Finnisterra but this time in Sagres.
Here it's a huge fortress which guarded the coast of Portugal and the entrance towards Gibraltar, I guess!
I honestly don't know how much is the entrance to it because it was either closed or I ran out of money when I got to it.
After you'll visit it, if you will, take a look at the coast from the edge of the cliffs. That feeling will be incredible! Also seeing the drop of 30m(or even more) from the cliff you're standing on to the rocks on the sea, that is also something!.
With this my list of recommendations finishes. I haven't been to the North of Portugal, yet, but I hope these places will keep you busy for a few weeks, or even months!
Please tell me other places that are worth visiting in the comments!